duplex house in tokito | Hidehiro Fukuda architects
Words by mooponto Staff
October 11, 2013
duplex house in tokito held concurrently and planned the two-generation house and the atelier to a still residential area in Hokkaido, Hakodate. I wanted to express the living of the child with parents forever in shape, and the crane (paper crane) was assumed to be a concept of the design.
There is a traditional custom of putting the wish for a long life and presenting the paper crane to an intimate person in Japan.
To do a little space in the center part, the volume of two layers and the volume of one layer on the next ground side were arranged on the park side. The little space became a passage connected from the door with the court. A transparent material was selected, and the wall and the roof of the same material as the outside were made a space to feel the outside in the life of the parents' home that was not able to go out through the room there.
The outside wall and the roof were covered with light material like the shuttlecock. It seems to rest the wing from the courtside seeming the faction of the bird from the entrance side. This expresses the movement of the wing. It was assumed the composition of the room where an internal space also showed thought in the exterior as it was. The atelier and the Buddhist altar room were arranged on the side that seemed to flap. To rest the wing, two arranged the living room and the bedroom on the seen side.
A structural designer Ryozo Umezawa made the structure that consisted only in the outer part. The partition wall can be freely arranged while the room and the room tie. All the parts were expressed in white. White space and a white passage connect all rooms. Space into which the aspect changes little by little appears when entering the inside as a result of connecting the roof with the diagonal.
December 21, 2013
villa kanousan | Yuusuke Karasawa Architects
July 26, 2013
House in Yamakawa | Horibe Associates
May 21, 2013
Aisho house | ALTS DESIGN OFFICE
November 15, 2012
XXXX house | MOUNT FUJI ARCHITECTS STUDIO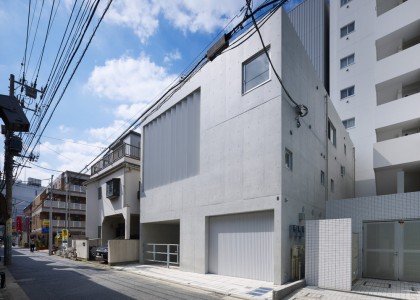 October 8, 2013
House in Tsurumi | High Land Design
August 27, 2012
GALERIE ASHIYA SCHULE | Horibe Associates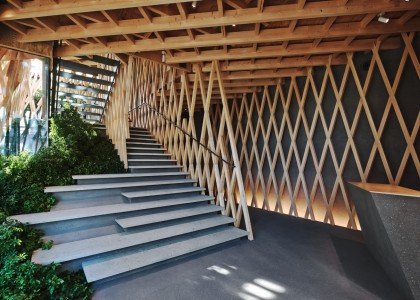 March 16, 2014
SunnyHills at Minami-Aoyama | Kengo Kuma & Associates
December 27, 2012
bar bunon | mattch
---