surutokoro | Tetsuo Kondo Architects
Words by mooponto Staff
October 17, 2013
surutokoro project aimed to renovate a forty-year-old factory in an older district on the outskirts of central Tokyo. The factory consists of a ground floor steel construction whilst the second floor is an aging wooden construction.
The building will be demolished in five years. The advertising company that commissioned the job wanted to have their printing office on the first floor with the second floor being dedicated to a social space for the community.
They imagined a space that could contribute to society by creating a workshop for children to learn and interact.
Since only one large room was suitable for the studio the building frames were kept exposed to create a single large enclosed space. The opening between the first and second floor has been designed to connect them.
Although the old factory was nothing special its location consists of historic city landmarks such as the small shrine with forest directly next door.
Kept as large as possible the windows influenced the building's proportions and created a new type of facade by exposing the inside of the building and its activities.
By being able to visualize these activities it is as if the city has expanded.
The interior spaces that were once dark and closed have been transformed into spaces of generous volumes and abundant natural light.
The surrounding areas of the shrine with forest combined with the surrounding city of people walking in the street are all now exposed heightening this effect.
Rather than trying to build independent relationships between city, site, building, and room I designed a place that helped to blur these boundaries and offer a feeling of great connectivity between them.
September 7, 2013
House in Chayagasaka | Tetsuo Kondo Architects
May 18, 2012
House with Gardens | Tetsuo Kondo Architects
August 30, 2012
muratajyuki headoffice | satoru hirota architects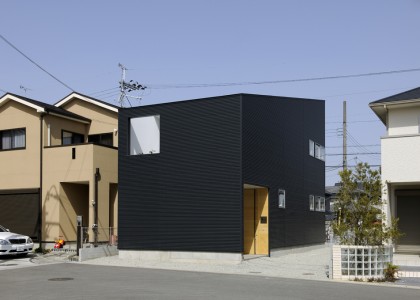 October 3, 2012
House in Kashiba | Horibe Associates
May 30, 2012
T-Clinic | SUPPOSE DESIGN OFFICE
March 9, 2014
T.D.C | T-LEX Brain. design office
---