table hat | Hiroyuki Shinozaki & Associates, Architects
Words by mooponto Staff
August 21, 2012
table hat is a small cafe built in the peaceful residential street of Odawara City. It is an extension of the two-story wooden house.
The extended part was planned for the cafe and residence. The basic structure is built up with mutually connected ten wooden big-size tables with 42mm-thick flames and a 9 mm-thick plywood top panel. Each of them with different sizes and heights creates various spaces below with suitable furniture, lighting, and plants. Connected ten tables look like being floated on a 250 mm-thick concrete slab which stood by 1.8 m higher from a foundation around the residence.
There are tables, chairs, and a roof that covers them, and this place becomes a cafe when a freshly poured cup of coffee comes. This such a primitive scene of the cafe is considered as a structure for making this architecture. Each space offers a place for reading, gathering, having a view of trees outside, and so on. Taking small scales of furniture in the cafe as a foot in the door for planning, all the places including the boundary of inside and outside are gradually separated from each other but are connected and share this place at the same time. It is a cafe like a park in a peaceful residential street where people choose a favorite place and take a cup of coffee to relax.
February 17, 2013
LIBRARY HOUSE | Shinichi Ogawa & Associates
May 8, 2012
House in Buzen | SUPPOSE DESIGN OFFICE
July 8, 2013
Starbucks Coffee | Kengo Kuma & Associates
September 29, 2012
Gallery Cafe Takeno | Horibe Associates
August 1, 2013
Jugetsudo Kabukiza | Kengo Kuma & Associates
July 8, 2013
Starbucks Coffee | Kengo Kuma & Associates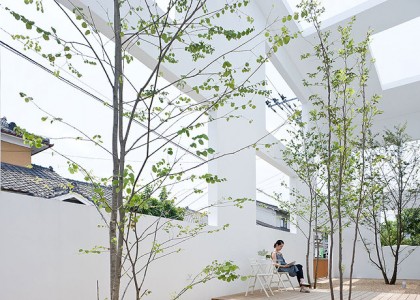 May 8, 2012
House N | Sou Fujimoto Architects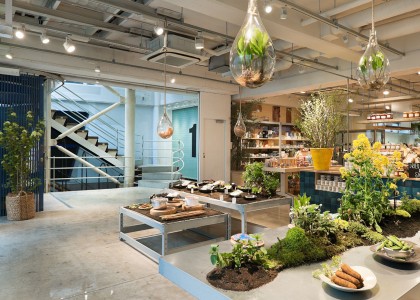 December 23, 2012
TODAY'S SPECIAL Jiyugaoka | Schemata Architects / Jo Nagasaka
December 15, 2013
House in Ueda | CASE DESIGN STUDIO
---