bar bunon | mattch
Words by mooponto Staff
December 27, 2012
End on the first basement level of an office building of Nagoya Fushimi.
The request of the client was hiding place Bar's design as a No. 2 store of the griddle French restaurant which is a prosperity store. Although the No. 1 store was a store which has a meal, the store here was made into the store which drinks alcohol a little more (the origin of a store name drinks a grape), and when I wanted the space which can feel "warmth" to carry out, it was requested.
In order to employ the limited space and cost-efficiently to the utmost, from the common passage, the design element was centralized only on the wall which is visible to the entrance front in which heavy steel door was opened, and it was made characteristic.
Although some proposals were considered, it thought whether the warmth which a material called a tree gives could be expressed in three dimensions well, and thought of using reasonable larch plywood for constructive use.
Although there is also a paragraph, it is dared to use it, since it is a natural tree as it is.
Make lamination plywood laminate further several times over, and a small sum is exposed by opening and sticking an interval a little — exactly — the section of Baumkuchen — it was visible also to the material [ like ] which seems to be slightly delicious.
As [ooze out / moreover, / by giving change to the lamination number of sheets of each block, / change arises and / with steps / the pixel picture of the tree compared with jet-black space by lighting] it became an impressive dramatic wall.
The whole color was connected with the store name and imagined the bottle color of France champagne "BVeuve Clicquot."
It constituted from a wall of masonry joint tension in which paint of deeper green was carried out to the tension place of the chair of a brighter orange, and a walnut tree, and it was dared to make others black.
It was set to BAR with sufficient comfortableness with such a wall which is wrapped in warmth by having designed by focusing.
December 17, 2012
house-h | mattch
January 31, 2013
rojyu mochida | mattch
January 20, 2013
house-n | mattch
January 30, 2014
SHUN*SHOKU LOUNGE BY GURUNAVI | Kengo Kuma & Associates
July 3, 2013
NADiff a/p/a/r/t | Schemata Architects / Jo Nagasaka
February 7, 2013
panda | Schemata Architects / Jo Nagasaka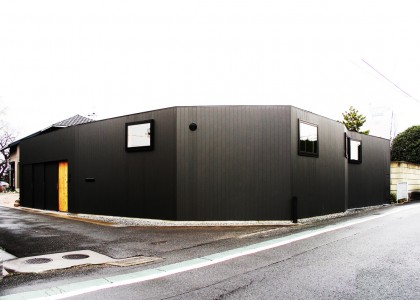 February 22, 2013
T House | Sou Fujimoto Architects
March 29, 2013
AILEREVE | YASUI HIDEO ATELIER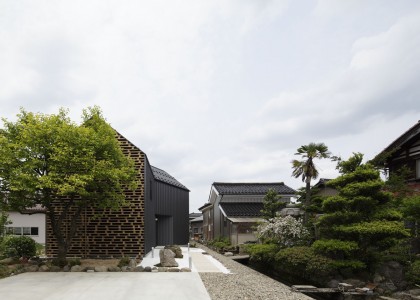 September 21, 2012
House M | AE5 Partners
---