Firefly squid | Taku Sakaushi / O.F.D.A. associates
Words by mooponto Staff
July 29, 2012
Firefly squid is a small Italian restaurant located in a business district in Tokyo.
As a site was surrounded by a tall contiguous similar flat facade, our strategy was to insert a crack a pathway like garden deep, through the site to use the merit of the smallness of the requested area due to a limited small budget.
By dividing the narrow site lengthwise into two lane, a proper width for counter seats and path-garden was provided at the same time.
A horizontal ribbon window opened at the high below waist gives a garden view to the customers.
May 10, 2014
folm arts | Tsubasa Iwahashi Architects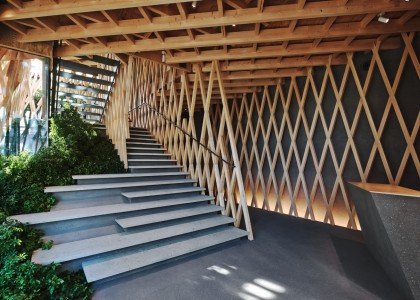 March 16, 2014
SunnyHills at Minami-Aoyama | Kengo Kuma & Associates
August 1, 2013
Jugetsudo Kabukiza | Kengo Kuma & Associates
March 13, 2013
house-T | Tsukano Architect Office
August 4, 2012
Portico | AIDA ATELIER + KUNO Lab.
January 31, 2013
rojyu mochida | mattch
---