JAIST Gallery | Tatsu Matsuda Architects
Words by mooponto Staff
February 15, 2013
JAIST Gallery is the space for the 3rd biggest puzzle collections in the world. At the entrance hall of the university's existing building, a space to exhibit various collections, a space where children can play puzzles in theirs hands freely, space to archive and arrange the puzzles and the documents, were required.
According to the scale condition of the exhibition area and the optimum dimensions for the exhibition, we chose the cube with 300 mm of one side as basic size and adopt "N" Penta Cube, which is combined by 5 basic cubes as a basic unit for space. Having supposed an "8×9×10" right-angled parallelepiped fop the big boxed puzzle which could be solved by 144 "N" Penta Cubes, we solved this puzzle problem by using the special algorithmic program. The completed boxed form of right-angled parallelepiped was decomposed into 12 parts, which were realigned in the gallery space.
This space is made up of the exactly same form units of 144 "N" Penta Cubes, letting us imagine the innumerable suppositional combinations. The visitors who enter into this puzzle space will explore and solve the space Puzzle while experiencing the special rules by their body directly. What we searched here is the possibilities of space where Puzzles and Architecture are coexisting.
Useful link: JAIST ギャラリー
August 16, 2012
Renovation Matsugaya | A.L.X. (ARCHITECT LABEL Xain)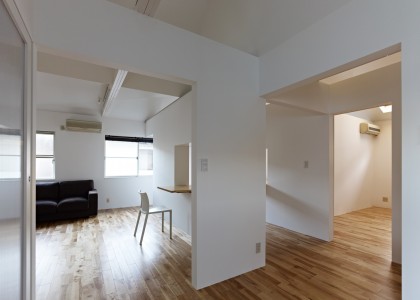 August 29, 2013
Suspensions of Space | TKDaaa
July 3, 2013
NADiff a/p/a/r/t | Schemata Architects / Jo Nagasaka
September 29, 2012
Gallery Cafe Takeno | Horibe Associates
November 15, 2012
XXXX house | MOUNT FUJI ARCHITECTS STUDIO
July 3, 2013
NADiff a/p/a/r/t | Schemata Architects / Jo Nagasaka
July 23, 2013
Kusaba apartment 2 | TAKAO SHIOTSUKA ATELIER
July 29, 2012
Firefly squid | Taku Sakaushi / O.F.D.A. associates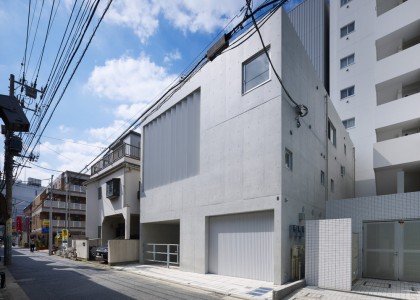 October 8, 2013
House in Tsurumi | High Land Design
---