LIFE IN SPIRAL | HIDEAKI TAKAYANAGI ARCHITECTS
Words by mooponto Staff
July 15, 2012
The main concept of LIFE IN SPIRAL is A Spiral Porch in Tokyo — challenging to open (or close) the privacy to the urban environment. The "Porch" (Engawa/縁側: in Japanese) was essential to traditional Japanese house, therefore it is one of the most nostalgic spaces for all. Recently, the prices of building plots in Tokyo have increased significantly. And therefore that made us give up to create the "porch".
So we decided to create the brand-new Engawa. Very narrow site forced to form 3-dimensional (spiral-shaped) engawa structure. But this was a nice idea to create engawa outside of this ribbon. The ribbon makes shade and shadow in inside and outside. And each floor slabs, spirals, end roof are entirely made from steel plate T=4.5 mm. So this house is very lightweight to be supple for an earthquake. No thick columns needed, all parts configure a supple and strong monocoque body. And notably, only the craftsman skilled welding of steel ship could build this house!
Gradual mediation, relationship, and serendipity configured between urban environment and the image of dwellings.
LIFE IN SPIRAL has four floors. Each floor settled a half-submerged from the other buildings. From inside and outside, both sight (or view) never met. And full-equipped variable vertical shutters obtain enough privacy. Therefore you can have a window (or wall) anywhere you want. This causes the relationship and serendipity to everyday life.
October 23, 2013
House in Nipponbashi | WARO KISHI + K.ASSOCIATES/Architects
May 14, 2012
Static Quarry | IKIMONO ARCHITECTS
May 18, 2014
F-WHITE | Takuro Yamamoto Architects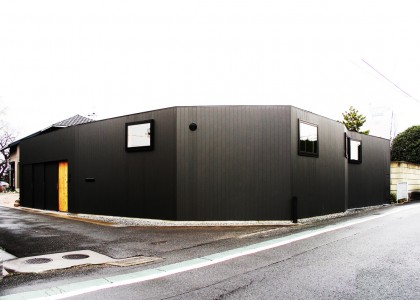 February 22, 2013
T House | Sou Fujimoto Architects
December 19, 2012
House F | IDO, KENJI ARCHITECTURAL STUDIO
April 26, 2014
Dogsalon in Oita | Horibe Associates
May 27, 2012
HOUSE IN MEGUROHONCHO | TORAFU ARCHITECTS
November 4, 2012
Omihachiman house | ALTS DESIGN OFFICE
---