Project Info
Architects: a.un
Team: Shigeru Okayama (lead architect)
Location: Mie Prefecture
Photographs: Yuya Saito
Function: Houses
Completion: June 2009
Structure: Wooden frame
Floor area: 108.51 m² (2F)
Material: Wood
House in Atagoyama | a.un architects
Words by mooponto Staff
September 14, 2012
The House in Atagoyama is designed for a couple and two active boys.
The site is located on a small rise of land after walking a little uphill.
Put a 30 degree-curved wooden box on the ground which is 1.80 m higher from the road.
By curving a little, it builds up an all-around view of the ocean and sky from every single room.
Needed life spaces for four family members are fitted in the simple plan, as compact as possible.
The interior space surrounded by wood is preferable to be peaceful, warm, and gentle.
This is the house that people can live by incorporating wavering light, refreshing breeze, beautiful Ise Bay lit by the rising sun, and surrounding green from season to season.
January 24, 2013
BUILDING K | RFA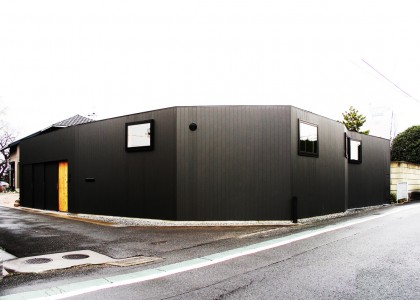 February 22, 2013
T House | Sou Fujimoto Architects
August 4, 2012
Portico | AIDA ATELIER + KUNO Lab.
July 15, 2012
LIFE IN SPIRAL | HIDEAKI TAKAYANAGI ARCHITECTS
September 6, 2012
House H | Sou Fujimoto Architects
November 11, 2012
House in Tamatsu | IDO, KENJI ARCHITECTURAL STUDIO
May 8, 2012
House in Buzen | SUPPOSE DESIGN OFFICE
October 5, 2012
villa921 | harunatsu-arch
August 20, 2012
Kofunaki house | ALTS DESIGN OFFICE
---