Project Info
Architects: harunatsu-arch
Team: Shoko Murakaji + Naoto Murakaji
Location: Okinawa Prefecture
Photographs: Kai Nakamura
Function: Houses
Completion: 2012
Structure: Reinforced concrete
Floor area: 73.44 m² (1F)
villa921 | harunatsu-arch
Words by mooponto Staff
October 5, 2012
It takes 40 minutes by ferry from the nearest island with an airport to reach Iriomote Island, which is a part of Okinawa in the south of Japan. With an area of over 90% covered by subtropical virgin forest, the entire island is designated as a national park. The client had lived on Iriomote Island for 14 years. Now he wanted to build his own house. While sitting snug against a hill, at the front of the house a luxurious vision opens up overlooking the farmlands that spread around the site.
The necessary rooms included the living and dining room, a parent's bedroom, kitchen, toilet, a bathroom, and a storage room that would be large enough for farming tools. The bedroom has two doors so that a separate children's room can be created – as there is no high school on the island, this solution is for a limited time only.
The site being of generous dimensions, there was no use for a roof terrace. Leaving out the rain gutter, the gabled roof lets the rainwater run over the facade to wash away accumulating salt crystals. The west side of the house opens up to the beautiful landscape. Wide eaves protect against the sun, which is five times stronger than on the main island. The spacious terrace is also used to wash and dry agricultural tools.
Wooden sliding doors (amado, 雨戸) close the house against the typhoon, which can last several days. During that time, because of power outages, electric air conditioning cannot be used. For that reason, to still be able to open the windows during a typhoon, wind protection nets can be installed on the eaves.
The usable area amounts to about 70 m². This is by no means large, but thanks to the amazing views of the landscape, there is never a feeling of narrowness. For the client, living on the island means returning to the fundamental basics of life. To wake up, to work, to eat, to drink, to go to bed. Deep personal relationships form the local community on the island. Embedded in the surrounding area, it is a simple life in a little house.
The new house has already become a part of Iriomote Island.
October 28, 2012
haramoS1 | Schemata Architects / Jo Nagasaka
October 23, 2013
House in Nipponbashi | WARO KISHI + K.ASSOCIATES/Architects
May 22, 2012
House of Vision | FORM / Kouichi Kimura Architects
November 11, 2012
House in Tamatsu | IDO, KENJI ARCHITECTURAL STUDIO
July 26, 2013
House in Yamakawa | Horibe Associates
September 14, 2012
House in Atagoyama | a.un architects
April 19, 2014
+green | sinato
November 19, 2013
White Cave House | Takuro Yamamoto Architects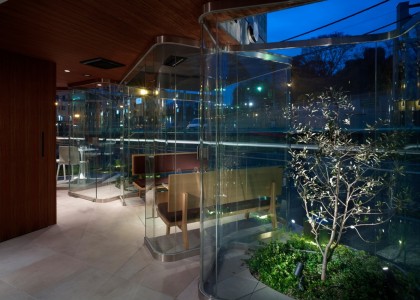 December 3, 2013
salon des saluts | sinato
---