SHUN*SHOKU LOUNGE BY GURUNAVI
SHUN*SHOKU LOUNGE BY GURUNAVI | Kengo Kuma & Associates
Words by mooponto Staff
January 30, 2014
SHUN*SHOKU LOUNGE BY GURUNAVI is made from piled-up pieces of wooden panels that create its interior like topography.
Various kinds of food-related items are laid out on this wooden ground.
We expected that the chemistry would be just right for eating and the wooden stratum.
Layered configuration has also been designed for V&A at Dundee. This lounge is in a way like a nesting inside V&A.
Useful links: SHUN*SHOKU LOUNGE / GURUNAVI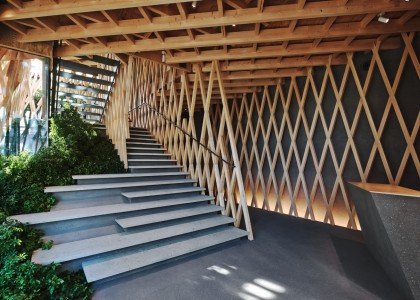 March 16, 2014
SunnyHills at Minami-Aoyama | Kengo Kuma & Associates
May 14, 2013
Garden Terrace Miyazaki | Kengo Kuma & Associates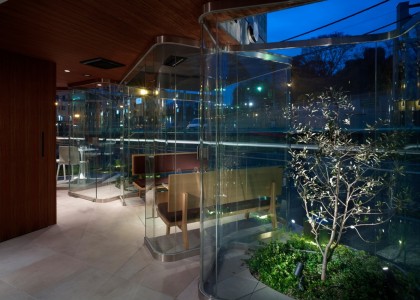 December 3, 2013
salon des saluts | sinato
November 30, 2012
TAKEO KIKUCHI SHIBUYA | Schemata Architects / Jo Nagasaka
March 9, 2014
T.D.C | T-LEX Brain. design office
June 24, 2012
HOUSE FOLDED | ALPHAVILLE Architects
September 7, 2013
House in Chayagasaka | Tetsuo Kondo Architects
October 13, 2012
OSHIKAMO | Katsutoshi Sasaki + Associates
---