Fragile Shelter | Hidemi Nishida Studio
Words by mooponto Staff
March 25, 2013
The Fragile Shelter is one of my works in the "Shelter series". This winter temporary shelter leads people to gather, have a party, stay, feel something, and so on in the white woods.
A number of events happened there. Sometimes, local students make a party there, and sometimes local kindergarten children come there and have lunch. This is a cozy base for winter activities.
This fragile function as being the shelter in the wild nature makes you a bit restless to stay there alone, but when few more people get to gather inside, it gets to be a wonderfully cozy, empathetic space.
This is a reconfirmation of the beginning of the "house".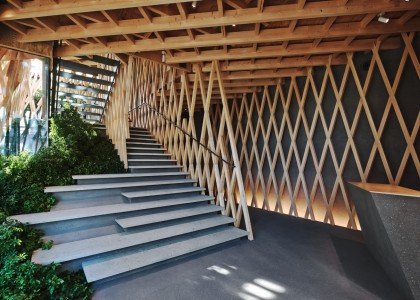 March 16, 2014
SunnyHills at Minami-Aoyama | Kengo Kuma & Associates
December 27, 2012
bar bunon | mattch
July 22, 2012
grappa | Katsuhiro Miyamoto & Associates
---